The Bad Behavior Series
So Twisted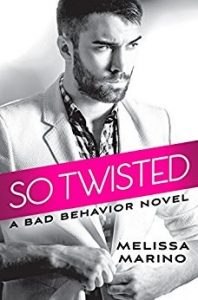 Sometimes it feels good to be a little bad.
Callie has found the perfect job. As nanny for a single dad and his adorable daughter, she can pay off her student loans and live in a nice house in the heart of Chicago. There's just one problem-her new boss. Definitely no dad bod here. Just six-plus feet of raw, sexual energy. Whoever heard of a dad being so hot?
From the sparkle in his daughter's eyes, Aaron can see that hiring Callie was a good decision. But Callie's breathtaking smile and long legs have him thinking about his own needs. Aaron knows it's a bad idea to get involved with the nanny, but it's been years since anyone has captivated him like Callie.
When living under the same roof proves too tempting to resist, Callie and Aaron discover a mind-blowing passion unlike anything either has experienced. But with a curious child and a nosy family in the mix, their secret, no-strings fling soon turns into a twisted, tangled knot . . .
Praise:
"I was totally blown away! It was one of those rare reads that has everything I love in a book: a spitfire heroine, a swoon worthy hero, a captivating plot, and an unforgettable love story. Marino's ability to transcribe emotions left me spellbound. She has a reader for life!"―Tara Sue Me, New York Times bestselling author of the Submissive series
"TOP PICK! 5 stars! So Twisted is going on my favorite list for 2016, making this debut novel by Melissa Marino a clear winner!―Harlequin Junkie
"Marino delivers a tempting forbidden treat that readers will devour."―USA Today bestselling author Nina Bocci, author of Roman Crazy
"So Twisted is a delightfully sweet and sexy-as-hell debut. Aaron and Callie will melt your heart…and a few other things."―Lex Martin, USA Today bestselling author
Melissa Marino is a swoony new voice in romance. Funny, charming, and steamy in all the right places. So Twisted makes taboo romance feel oh-so-right.―Amy Reichert
So Screwed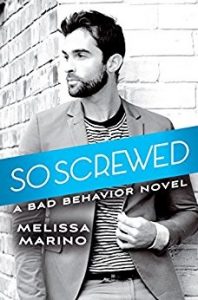 He's charming, wicked, and handsome . . . and she needs to stay away
For Evelyn Owen, work comes first. Being a wedding planner to the city's elite fills her nights and weekends, and she doesn't have time for distractions. Especially in the form of a sexy bartender with killer dimples . . .
Abel Matthews knows how to serve the ladies. But lately, the only woman he wants is just out of reach. That's because Evelyn has already been warned about his playboy ways. Still, there's something about her that makes Abel want more than a quick fling.
Evelyn knows that she shouldn't trust Abel. Yet she's seen a side of him no one else knows, and she can't turn away. But Abel is hiding something from her . . . and if he doesn't confess soon, it will tear them apart.
So Wicked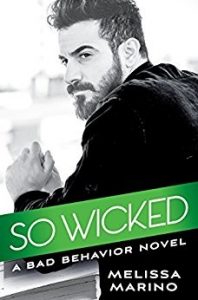 Fate has a wicked sense of humor.
Alexis's new life was made up of two things: baking and hiding the details of her old life in Chicago. The first allowed her to finally find some happiness. And the second is about to be destroyed by a man who knows all her secrets.
Marshall Rawlins was prepared to do anything when he moved cross-country to launch an upscale cocktail bar—anything except work with Alexis, his best friend and business partner's ex-wife. Adding Alexis's boozy-baked goods to his menu would be a major feat for his bar. But striking a deal means getting in bed with the enemy.
Battling between distrust and desire, Alexis and Marshall give in to a passionate, forbidden affair. They know if they're discovered the consequences would be bad—it's just hard to remember that when being together feels so, so good.
Praise:
"Between the deliciously dirty and tattooed Marshall to the tasty treats within its pages, SO WICKED left me hungry for more." — Brighton Walsh, author of Caged in Winter.
"Melissa's books are unique and masterful, filled with brutal emotions and unstoppable hope. A definite must read for anyone who loves sensual and smart romance." — Ellis Leigh, USA Today bestselling author